245
156
Experience

Beginner
Even late last night they were still murmering outside.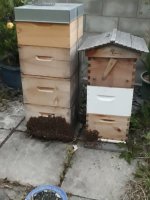 outside at mine too. Chch was hot.
Did our first harvest today. Got community members to help decap, spin, cut out comb and crush what the spinner left over. We purified wax cappings into wax and got 12 litres out of 6 frames. Lots of tea spoons sampling the different color honey.
Lots of sticky mess.
It was great for the community to be engaged and learn more about bees. Our wooden mallets got a work out too.
I learned not to wear shorts near bees as a bee crawling up you leg stings when you move.
As an activity it was very inclusive. We had people with some real mobility / physical issues helping. Also kids, migrants etc.
A good shared experience.
Last edited by a moderator: