8,786
5,251
Experience

Commercial
how have you guys fixed this ?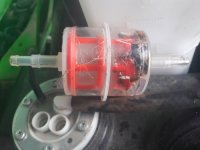 our avant conked out the other day in the yard. that goodness it wasn't at night shifting bees !
found the culprit, a fuel filter with a bit of diesel bug in it.
now the catch is someone has installed it before the fuel pump. it was rolling around in the crap on the bottom. so obviously not OEM.
however the agents/dealer tells me its factory. however the avant has a factory mounted main filter and a separate water trap with pre filter.
both of which are absolutely useless because this added filter does the job for them. so its the one that clogs up and its buried down the bottom where you have to take several panels off to get to it. try doing that in the field at night. where as the factory water trap and pre filter is accessible at the top and doesn't need tools.
pretty obvious dealer or agent is talking crap and they probably added the extra filter because they had fuel pump failures. that would not be to surprising as the pump is a good location where water will sit inside it and diesel bug will clog it.
has any one sorted out a proper fix for these machines?