Harvesting honey today and came across an especially vicious hive, badly wanted to requeen, but I didn't have a queen.
Then while doing the AFB check I found 3 supersedure cells. A good thing, but only issue is the resultant queen might turn out to be just as nasty as it's mother.
So, what to do? Alongside the agro hive was a nice quiet hive of golden coloured very gentle bees. I didn't have any queen making gear with me, but using a twig I removed the young larvae from the queen cells, and replaced them with larvae plucked from the gentle hive.
Hoping the bees don't notice and raise these larvae to be their new queen. Never done this before so not totally certain it will work, but as the vicious hive was black and the nice hive was yellow, I should be able to tell in a couple of months if there has been a colour change in the black hive.
2 of the 3 supersedure cells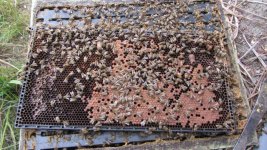 Over at the gentle hive, pared back the cell a bit, removed the larva, and placing a larva from the gentle hive