A bit of talk about solar wax melters lately spiked my interest so checked out what's available commercially.
They are super expensive but in the end I settled on this one, available from Ceracell for $650 + GST.
Pictures are thumbnail so click on them to make them bigger for a better look.
They can't sell many of them because when I rang the guy he said they didn't have any, took a bit of argument to convince him to go look, and sure enough, they did have them.
When it was delivered I saw how shiny it was and thought wow that's all wrong it's not going to get hot. Also it's been raining ever since it arrived but i set it up outside with some excluders and a frame with a broken lug in it. Just for a brief time we had a bit of sun not even full sun, just poking through the clouds, and the result was amazing. Cleaned up the excluders and you can see what it did to the frame.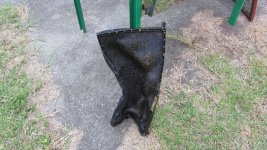 I'm looking forward to see what it can do on a good hot day.
The excluders are not 100% clean, but if the sun had shone a bit longer the result may have been better.
I've been wasting beeswax when I scrape hives, mostly leaving it on the ground which is bad practise I know. Wish I'd got this melter years ago, now I'm going to make a rob proof box for scraping into and all wax will get processed, keep my yards tidy and reduce a possible means of transmitting disease.
Cleaning excluders has always been a problem for me cos I don't have a large tub to boil water in that can fit excluders, but looking like this solar melter will solve that problem for me, and best of all it is passive, set and forget.
In summary, love it, wish I got one years ago
Last edited: